A New Solution to Hair Loss
Mac Hair Studio is proud to be carrying  a new line of products called Zenagen.   Zenagen's products work to reverse hair loss and allow the scalp to grow healthier, thicker, and fuller hair.  This line consists of three Treatment Shampoos, two Conditioners, and four Styling Products.  The line was designed by Jared Reynolds, a Biochemist and a Molecular Biologist.  He first started his research into solutions to hair loss as a medical student when his own hair started to shed and thin.
The Zenagen line has two different treatment lines that target different clients with different problem.
Hair Loss and Thickening Technology – Zenagen Revolve
The Revolve line should be used by anyone with visible signs of hair loss or thinning, women over 40 even if there is no visible loss, and all men.  The Treatment Shampoo works by combating DHT (Dihydrotestosterone) that builds up in the hair follicle matrix and causes the follicle to thin and slowly die.  To read more about the science behind the Revolve system,
Click to Read More
Hair Repair & Length Technology – Zenagen Evolve
The Evolve line should be used by those with heat or chemically damaged hair, as well as those who want to grow longer hair.  The Evolve line works by increasing hair follicle turnover, this means 40% faster hair growth for the user!  It also lengthens the Anagen growth phase, which results in not only faster growth, but longer hair.  To read about how the treatment allows for longer hair growth,
Click to Read More
How to Use the Zenagen Hair Growth Products
Both the Revolve and Evolve lines have similar use instructions.  The Treatment Shampoo should be lathers on the scalp and worker though the ends; then left to set for 5 full minutes before rinsing with warm water.  The Conditioner should be applied after and can be applied directly to the scalp.  It doesn't have to be left on as long.  While the Conditioner doesn't have to be used together with the Treatment Shampoo, it will increase results by 20%!  Both lines recommend using the Treatment every other day (or three times per week) for optimal results.
All products are pH balanced, vegan, cruelty free, color safe, and gluten free.  They contain no minoxidil, no parabens, and are SLS free.
Here at MAC, we know there are a lot of products for hair loss on the market.  We're just as skeptical as the next person when a new one emerges.  So, we did our own 3-month trials with some clients here in the salon.
As you can see, we've had some impressive results!  We can't guarantee this line will work for everyone.  However, if you're struggling with hair loss and have tried other products to no avail, we think Zenagen is worth a try.
If you'd like to take a look at the before and after's on Zenagen's website, click here.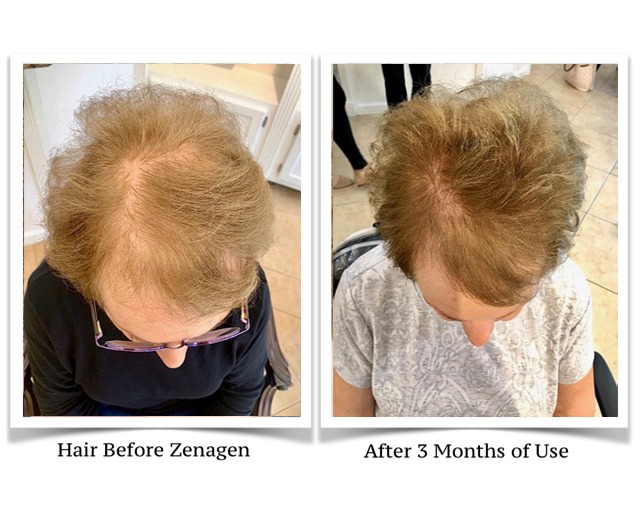 Stop By Today to Get Started!