Starting A New Chapter:
We feel blessed that we've had three years with Sherrie Ralph as our esthetician and spa specialist.
Although we're sad to see her go, we gathered with a few of her closest clients for a send-off luncheon to wish her a happy retirement.
Our very own Amber Stephens will continue our spa services. Sherrie and Amber have been working together during this transition.
In order for our clients to become familiar with Amber, we're offering 20% off all spa services through Thanksgiving.
Visit our website for a complete list of our Spa services.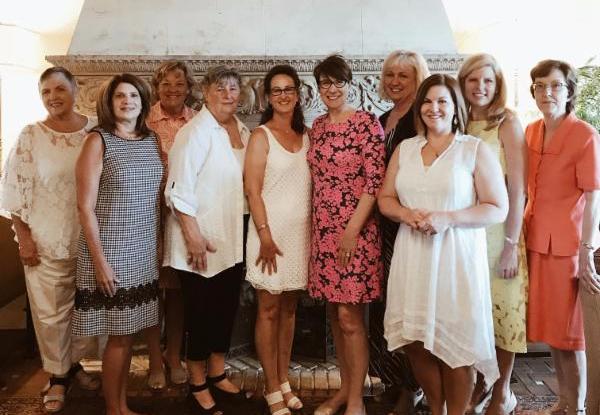 New York Fashion Week
In the City That Never Sleeps…neither did we!
This year's NYFW was a family affair with MAC Hair Studio owner, Margaret, her daughter Lyndsey and son Colin by her side.
Colin and Margaret had the opportunity to work backstage as part of the Vivienne Mackinder team creating the looks for the Malan Bretan show. This is Margaret's second year working NYFW at Vivienne Mackinder's side. Mackinder is one of the most highly respected international leaders and innovators in the hairdressing profession today.
Lyndsey spent NYFW behind the lens, capturing the moments backstage and on the runway.
Editorial Photo Shoot
What kind of bride are you?
Together, Lyndsey and Vivienne Mackinder held an editorial photoshoot showcasing eight different bridal looks at the Vanderbilt mansion in the Hamptons.
They paired different hairstyles with bridal gowns to create the perfect look from Boho Bride to Fairy-Tale, and even Classic Beauty.
We hope to release info about these images being published soon!
Lyndsey is available for style shoots or holiday family photos, but availability is limited! See more of her work at lyndseyannephotography.com
No visit to New York is complete without a celebrity spotting.
Lyndsey snagged a picture with Lisa Vanderpump from Bravo's The Real Housewives of Beverly Hills.
The rest of the Real Housewives crew was there too, right next to the catwalk.
A Few Moments from New York Fashion Week: